12kV/ 8,3A DC – High Voltage DC Power Converter
Main characteristics:
Output Voltage: 1-12kV adjustable
Output Current: 8,3 A max
Accuracy: ±1% of full scale
Input Voltage: 400Vac  ±10%, 50Hz Three Phase without neutral
Output Polarity: positive voltage (negative to be grounded)
Control: Local or Remote
Main Protection:
Output Crowbar
Output earthing switch
Electronic diagnosis with alarm storage
Layout Dimensions: 1920  10000  2200 mm (l  w  h)
Weight: 1100 Kg
Protection Degree: IP2X
Cooling: Forced Air
Applications: for Radio Frequency applications and general purpose high voltage loads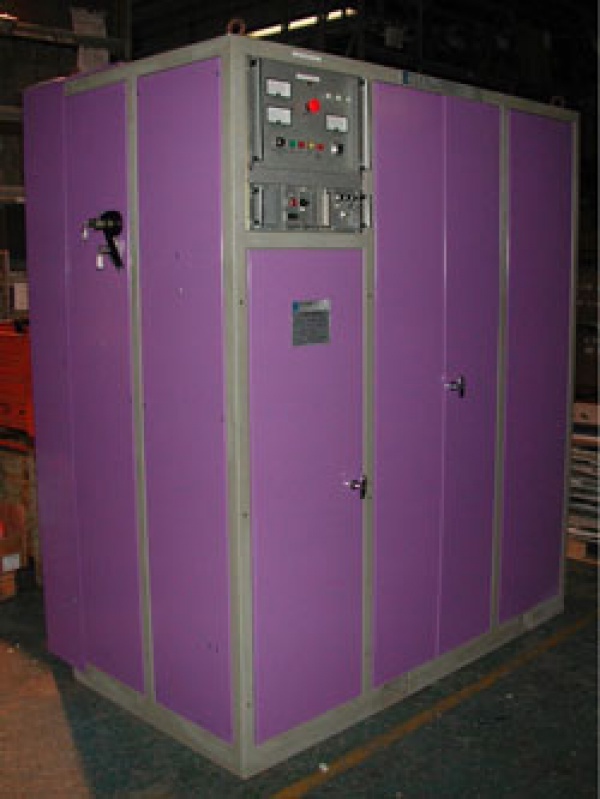 Main features:
This type of power supply has a thyristor primary side regulation.
It is a  topology which is suited for high voltage supply and there is no practical power limit to this solution.
Output stability, including ripple can be further improved on request.
The solution can be proposed in the range from 10kW  up to 2MW.
For the highest power range a 12 pulse rectifier solution is suggested in order to reduce the harmonic content taken from the line.
Due to its high reliability, since 1977 up to nowadays this topology of power supply has been successfully commissioned to CERN, CNAO, Juelich, INFN Catania, and other important European laboratories.