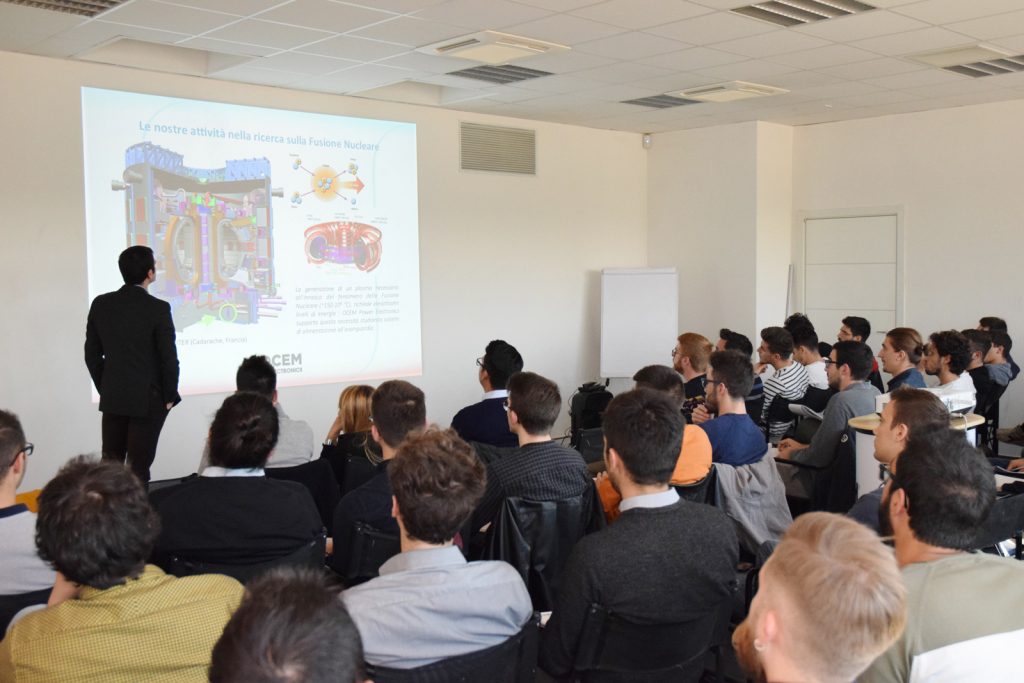 About 50 students from the University of Ferrara attended presentations and toured the company's factory
OCEM Power Electronics welcomed about 50 engineering students to its company headquarters this week for a workshop on corporate management, strategy and innovation.
The students, who are pursuing Masters degrees in engineering at the Unviersity of Ferrara, attended applied lectures on strategic planning, budget and reporting, research and development, and human resources management.
The students were able to view the lectures as a sort of live case study, as they also toured the company HQ and factory, and met with experienced researchers and junior engineers alike.
On a display was OCEM's latest advanced power system: a current-controlled power converter for the TRIUMF cyclotron magnet in Vancouver, Canada. TRIUMF is Canada's national laboratory for particle and nuclear physics, and is owned and operated by a consortium of 19 universities. The power supply will produce a nominal current of 20,000 A and 80 V.
OCEM has also recently supplied components to CERN in Switzerland and the Diamond Light Source synchotron in the U.K., the students learned.
The workshop presentations then discussed the power systems the company has created for plasma physics research centers, which are developing fusion as a safe, reliable and abundant source of energy.
OCEM has contributed to most of the major national and international fusion research initiatives of the past few decades, including the JT-60SA tokamak reactor in Japan and the ITER facility under construction in France.
OCEM was thrilled to have an opportunity share its values, insights and expertise with the students. The company is passionate about helping develop the next generation of power electronics engineers as they prepare to graduate and help tackle some of the biggest questions in science.
OCEM Power Electronics
Since 1943