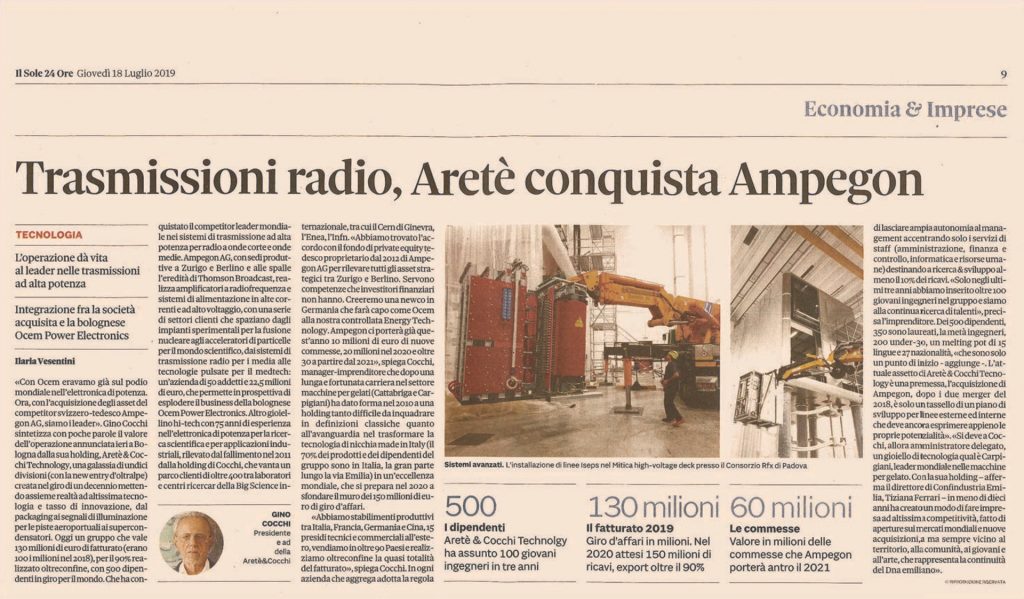 Bologna – Italy, July 18th, 2019
Radio transmissions, Aretè conquers Ampegon
The operation gives life to the global leaders in high power transmissions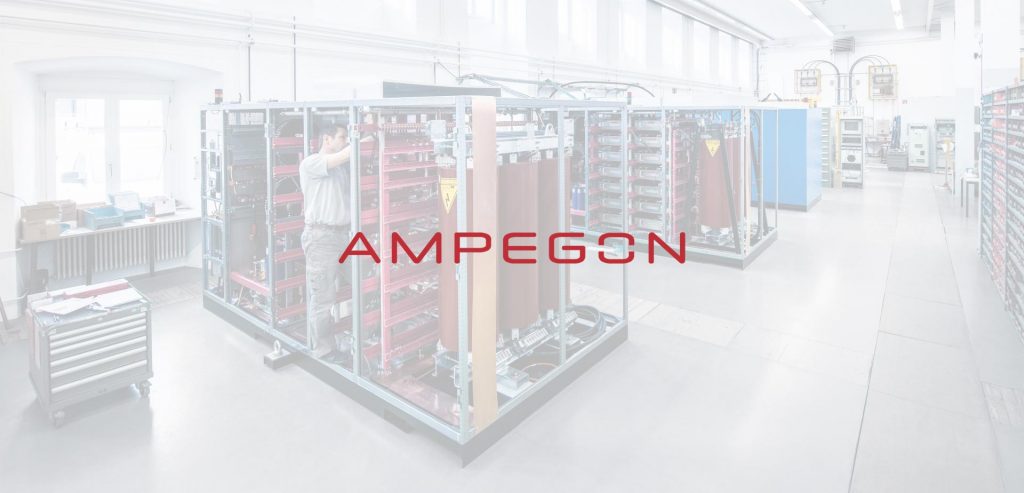 "With Ocem we were already one of the world's top players in power electronics. Now, with the acquisition of the assets of our Swiss-German competitor Ampegon AG, we are the absolute leaders."
With these words Gino Cocchi summarizes the value of the transaction announced yesterday in Bologna by his holding company, Aretè & Cocchi Technology, a galaxy of 11 divisions (including this latest addition) created over the course of a decade by acquiring high-tech and innovative businesses from packaging to lighting signals for airport runways to supercapacitors. Today it is a group with €130 million turnover (€100 million in 2018), 90% of which was achieved internationally, which employs 500 people around the world. Now, the group has conquered the world's leading competitor in high power transmission systems for short- and medium-wave transmitters.
With production sites in Zurich and Berlin and a solid foundation built on the legacy of Thomson Broadcast, Ampegon AG manufactures radio-frequency amplifiers and high-voltage and high-current power systems for sectors ranging from experimental nuclear fusion plants to particle accelerators, from radio transmission systems for the media to pulsed technologies for medtech. A company with 50 employees and revenues of €22.5 million, it is certain that in the near future Bologna-based Ocem Power Electronics will see a significant boost in business. Indeed, Ocem is another hi-tech jewel with 75 years of experience in power electronics for scientific research and industrial applications, acquired out of bankruptcy in 2011 by Cocchi's holding company, which has a customer base of more than 400 laboratories and research centers working internationally for Big Science, including CERN in Geneva, Enea and Infn.
"We reached an agreement with the German private equity fund that has owned Ampegon AG since 2012 to acquire all the strategic assets in Zurich and Berlin. Expertise is required that financial investors simply don't have. We will create a newco in Germany that will report, like Ocem, to our subsidiary Energy Technology. Just this year Ampegon will bring in €10 million of new orders, €20 million in 2020 and more than €30 million from 2021," explains Cocchi, a manager/entrepreneur who, after a long, successful career in the field of gelato ice-cream machines (Cattabriga and Carpigiani), founded a holding company in 2010 that doesn't fit any classical molds. The company is at the forefront of transforming niche technology made in Italy (70% of the products and employees of the group are in Italy, the majority along Via Emilia) into global phenomenons, and is preparing to break through the wall of €150 million turnover in 2020. "We have production plants in Italy, France, Germany, and China, 15 technical and commercial facilities abroad, we sell in 90 countries and generate almost all our turnover outside of Italy," explains Cocchi.
In every company he acquires he adopts the rule of giving management ample autonomy, centralizing only the staff services (administration, finance and control, IT and human resources) allocating at least 10% of revenues to research and development. "In the last three years alone we have hired more than 100 young engineers in the group and we are constantly looking for new talents," says the entrepreneur. Of the 500 employees, 350 are university graduates, half are engineers, 200 are under 30, and the company is a melting pot of 15 languages and 27 nationalities, "which is just a starting point," he adds. "The current structure of Aretè & Cocchi Technology is a beginning. The acquisition of Ampegon, after the two mergers of 2018, is only one piece of a development plan for external and internal lines that has yet to reach its full potential." "Cocchi, then chief executive officer, was responsible for the technological jewel that is Carpigiani, world leader in gelato machines. With his holding company," notes Tiziana Ferrari, director of Confindustria Emilia, "in less than ten years he has established a highly competitive way of doing business consisting of branching into global markets and making new acquisitions, but always close to the local region, to the community, to young people and to art, which represents the continuity of Emilian DNA."
Ilaria Vesentini
Il Sole 24 Ore
OCEM Power Electronics
Be Energy